A Masterpiece of Architectural Luxury
Nestled along the pristine shores of Tasmania's iconic 9 Mile Beach at Dolphin Sands, Studio Tasmania stands as a testament to architectural brilliance and unparalleled coastal elegance. This exquisite holiday house has garnered well-deserved recognition for its visionary design, making it a destination in itself for those seeking the pinnacle of luxury.
Indulge, Reflect & Connect at this unique property. Proudly and professionally managed by Freycinet Luxury Hosts.
What makes this house special...
View:
As you step inside Studio Tasmania, you'll be greeted by uninterrupted, awe-inspiring ocean views that stretch to the horizon, seamlessly blending the boundaries between indoor and outdoor living. The studio's stylish interior design harmoniously combines modern comfort with timeless sophistication, creating an atmosphere that invites relaxation and rejuvenation.
Outdoors:
Studio Tasmania offers a generous outdoor space that unfolds before your eyes, providing panoramic vistas of the endless ocean and the majestic Freycinet range. Whether you're savouring a morning coffee on the expansive deck or indulging in an evening cocktail while watching the sun dip below the horizon, you'll be immersed in the natural beauty that surrounds you.
Suitable for: Couples – Adult Only Retreat
Bedrooms: 1
Bathrooms: 1
Guests: 2
Check-in after: 3:00 pm
Check-out before: 11:00 am
Location: Dolphin Sands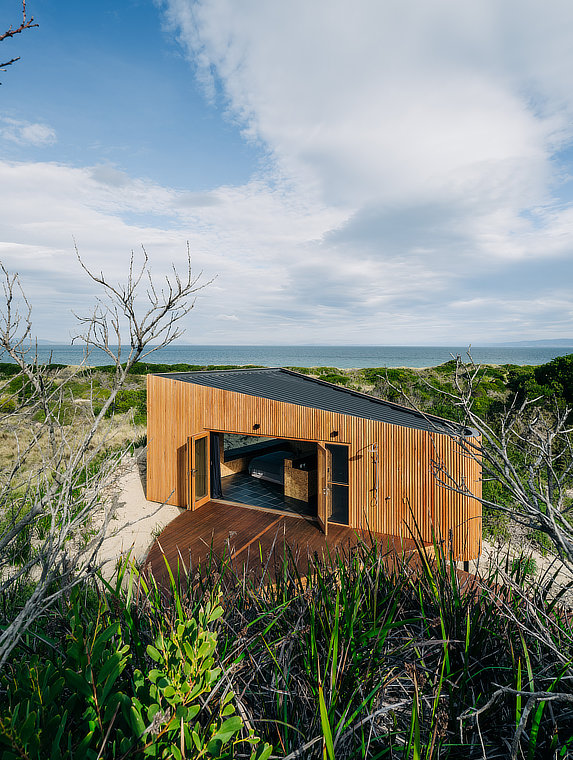 Coastal Indulgence:
For those who crave the ultimate in coastal indulgence, Studio Tasmania offers an outdoor shower, where you can cleanse your soul under the open sky, surrounded by the soothing sounds of the waves. Every detail of this luxury holiday house has been meticulously crafted to provide creature comforts that exceed expectations.
Escape to Studio Tasmania, where architectural innovation, uninterrupted ocean views, and a beachfront location merge seamlessly with opulent interior design and the utmost comfort. This is not just a holiday destination; it's an experience of unparalleled luxury on Tasmania's stunning coast.
Some of the best-known wineries of Tasmania are in this region, Melshell's Oyster Shack is on this road, and many other local attractions for those wishing to explore.