A truly enchanting retreat
Searene is a magnificent luxury holiday house located in the picturesque town of Swansea, nestled along the beautiful east coast of Tasmania, Australia. This exclusive property offers a truly enchanting retreat for those seeking a serene escape amidst breathtaking natural beauty.
Searene is designed to provide an exquisite experience for those seeking a tranquil escape where serenity and indulgence seamlessly blend together.
Indulge, Reflect & Connect at this unique property. Proudly and professionally managed by Freycinet Luxury Hosts.
What makes this house special...
View:
Nestled amidst lush greenery and overlooking the azure waters of the Tasman Sea, Searene offers breathtaking panoramic views that instantly captivate the senses.
The outdoor spaces at Searene are equally remarkable. Aside from the outdoor bath, the property features an expansive deck area where guests can relax and savour the breathtaking ocean views. Furnished with comfortable seating, it is an ideal spot for alfresco dining or simply enjoying a refreshing drink while basking in the coastal serenity.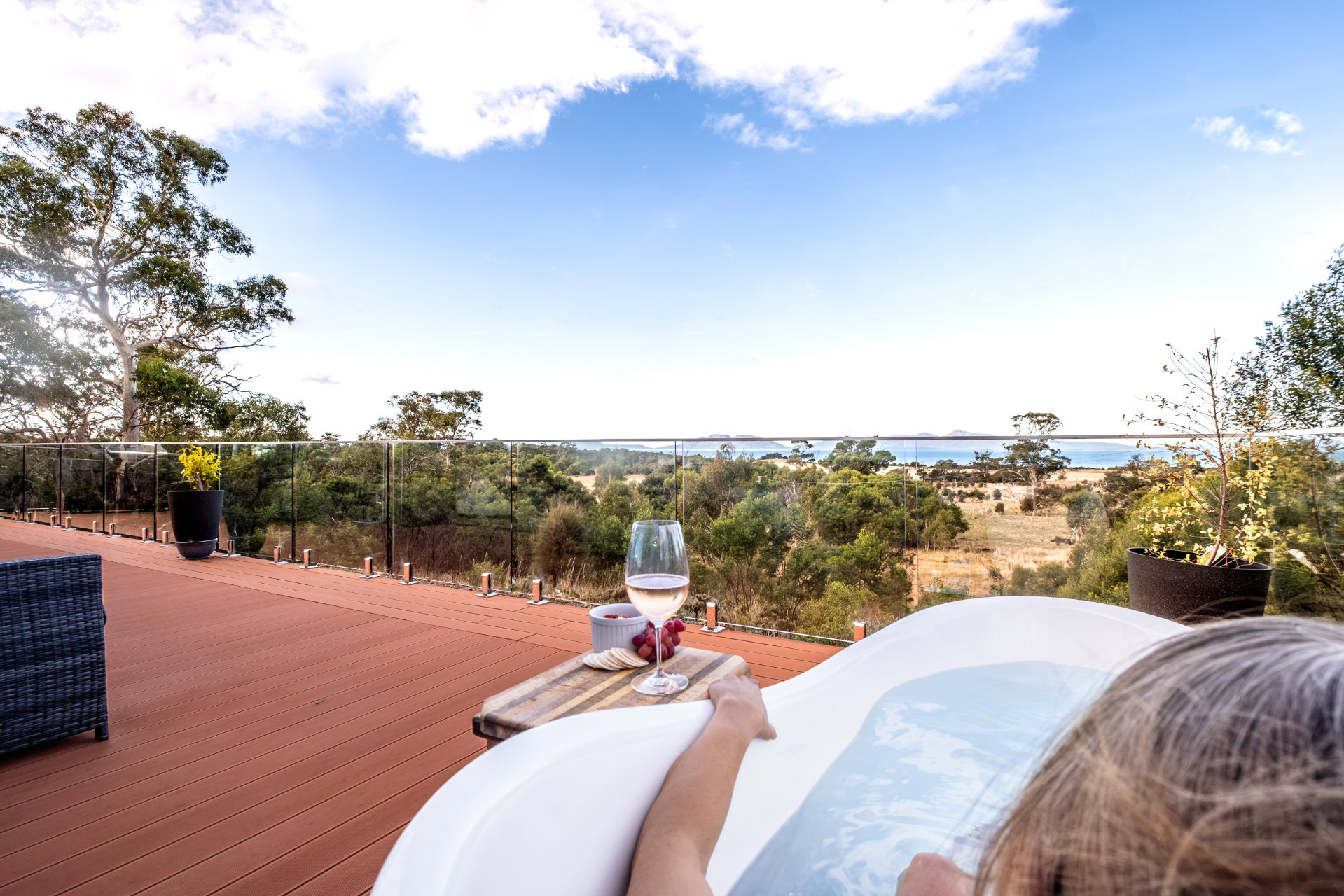 Suitable for: Couples, Family & Friends
Bedrooms: 2
Bathrooms: 2
Guests: 4
Check-in after: 3:00 pm
Check-out before: 11:00 am
Location: Swansea
Bedroom 1: 1 King
Bedroom 2: 1 Queen
Bathtub
Fireplace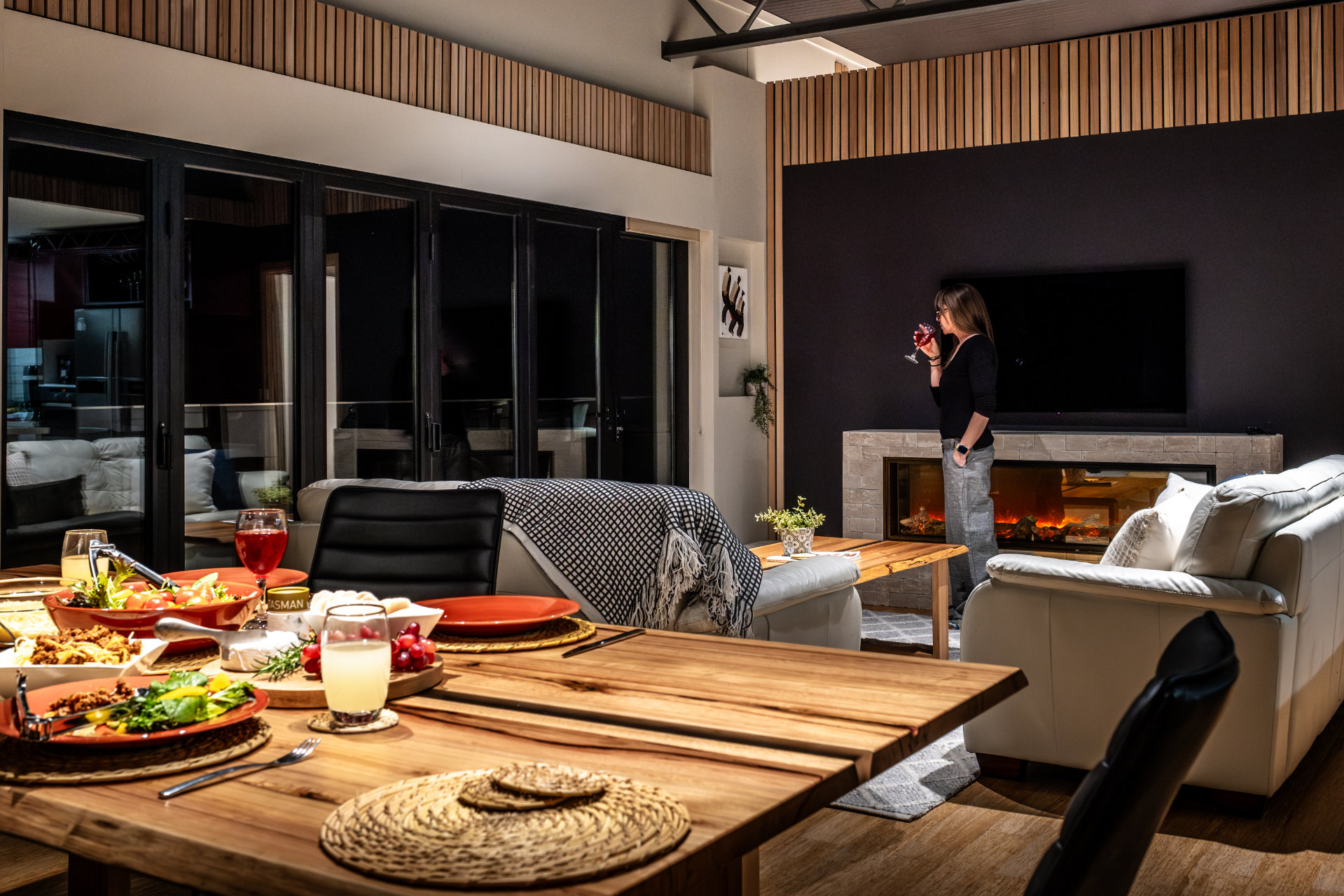 Outdoor Bath:
The highlight of Searene is the outdoor bath, thoughtfully positioned to offer a private oasis where guests can indulge in the ultimate relaxation experience. Set against the backdrop of the stunning ocean views, the bath provides a tranquil haven where guests can immerse themselves in warm water while being surrounded by the natural beauty of Swansea.
This enchanting feature allows for unforgettable moments of serenity and rejuvenation.
Architecture & Design:
The architecture of the house is modern and elegant, blending seamlessly with the surrounding coastal landscape. Its sleek design features large windows and expansive balconies, creating a seamless integration between indoor and outdoor spaces.
As you enter Searene, you are greeted by a spacious and tastefully furnished living area that exudes comfort and luxury. The open-plan design seamlessly connects the living room, dining area, and gourmet kitchen, creating a perfect space for socializing and entertaining. The interiors are adorned with contemporary furniture, high-end fixtures, and stylish décor, creating an atmosphere of refined elegance.
Searene offers luxurious accommodation with well-appointed bedrooms that provide a peaceful retreat. Each bedroom is designed with comfort and style in mind, offering plush bedding, ample space, and stunning views of the surroundings. The bathrooms are designed to be elegant and sophisticated, equipped with modern fixtures and luxurious amenities.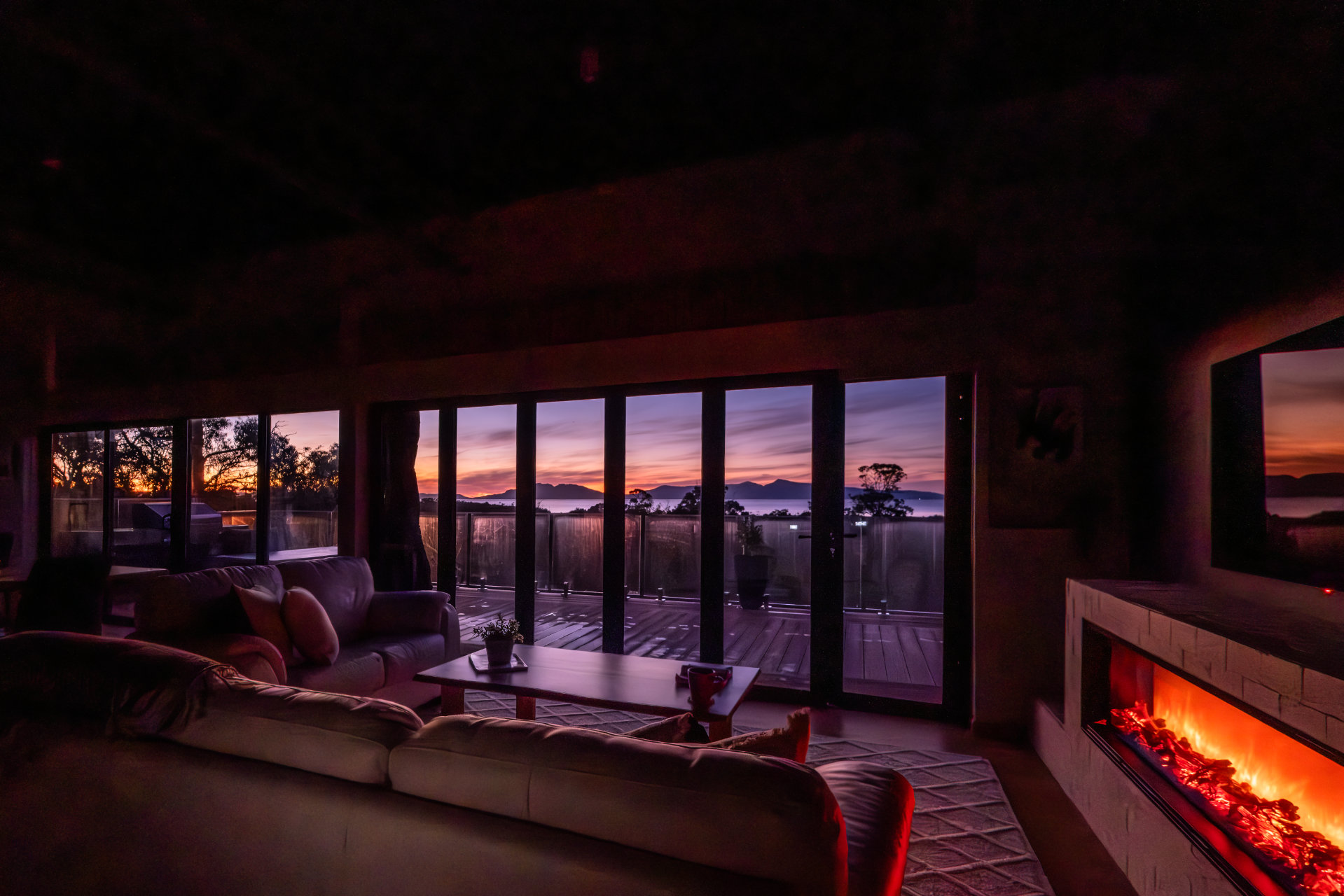 Fireplace:
Nestled within the living space is an electric fireplace, creating a warm and intimate ambience. With just the flick of a switch, guests can enjoy the comforting glow and gentle crackle of the fire, perfect for cozy evenings and chilly nights.
Location:
Serene is ideally located for exploring the natural wonders of the region. Nearby, guests can discover the pristine beaches of the Freycinet Peninsula, hike through the breathtaking and unique landscape of Maria Island national park, or embark on a wine-tasting journey at the renowned Tasmanian vineyards in the area.
After a day of adventure, returning to Searene allows guests to unwind in luxury and revel in the peacefulness of the surroundings.
With its idyllic location, exquisite design, and luxurious amenities, Searene provides an unforgettable holiday experience in Swansea, Tasmania. Whether you are seeking a romantic getaway, a family vacation, or a peaceful retreat, this lavish holiday house is sure to exceed your expectations and create lasting memories of your time spent in this captivating corner of Australia.